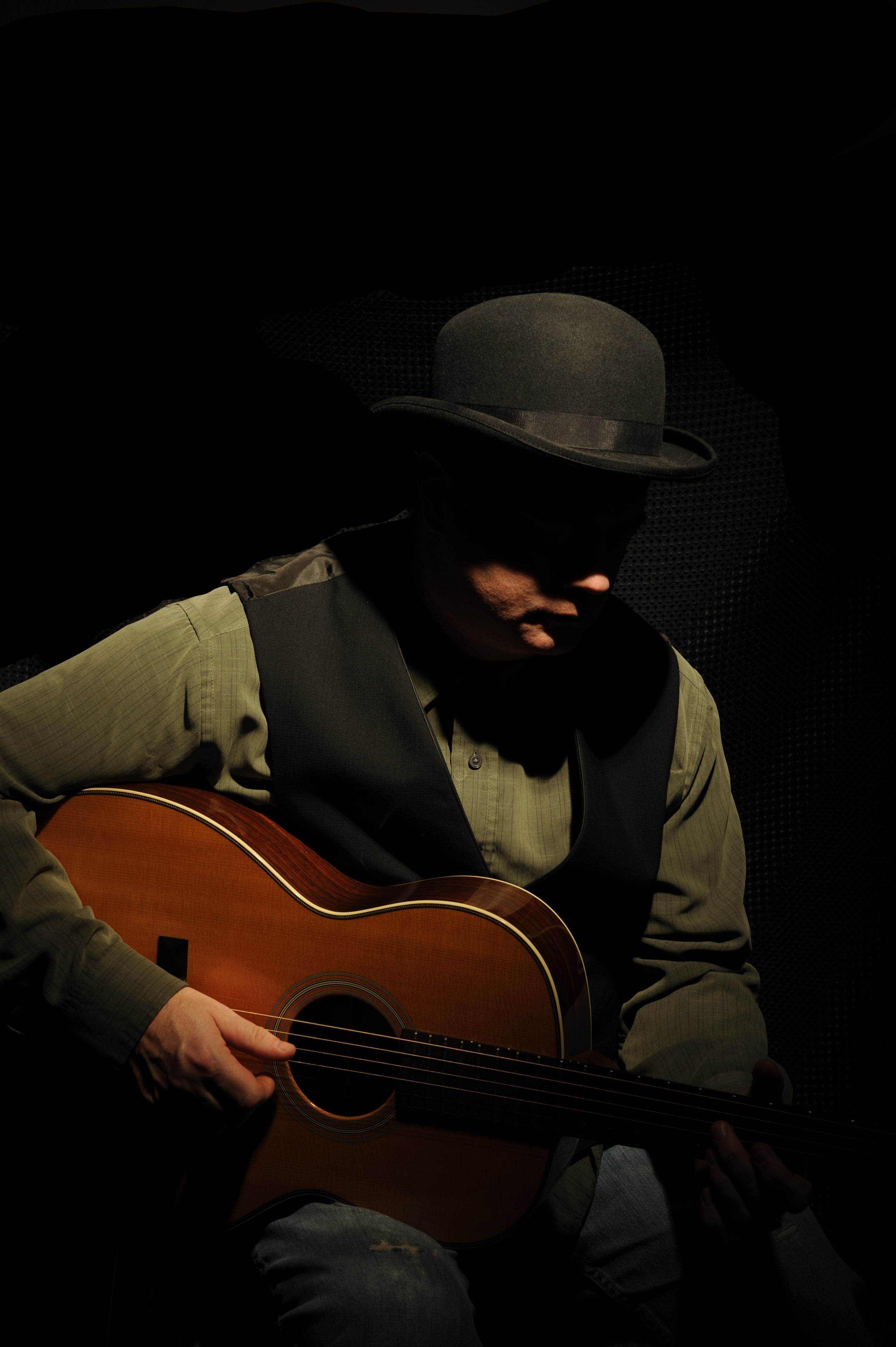 Charlie Mosbrook is an award-winning songwriter, performer, and advocate for American folk music. Beginning his career in 1988 as a street musician, he quickly became a popular open mic host throughout Northeast Ohio. From these early roots he nurtured his songwriting, musicianship, and stagecraft and today performs for major festivals and concert series throughout the US. His recordings of original and traditional songs have earned him rotation on many popular folk radio programs around the world. As a folk music advocate Charlie continues to organize local open mics and serves as the president for Folknet and vice president to FARM (Folk Alliance Region Midwest)
In the summer of 2018 Charlie's song "Remember Who We Are" earned him 2nd place in the Woody Guthrie Folk Festival Songwriting contest. The honor included an invitation to perform on the mainstage during the festival. The recognition highlighted a long history of helping to continue the legacy of Guthrie's music including a performance at the Rock and Roll Hall of Fame and Museum during its weeklong conference in 1996 titled Hard Travelin': The Life and Legacy of Woody Guthrie. That performance received a credit in Robert Santelli's book by the same name. Charlie has led Woody Guthrie workshops and performed his songs for schools, festivals, and libraries across the country. The Library of Congress American Folk Life Center has recorded Charlie performing Guthrie's song "I Ain't Got No Home".
In addition to the WG songwriting contest Charlie's original music has been featured on Folk Alley, No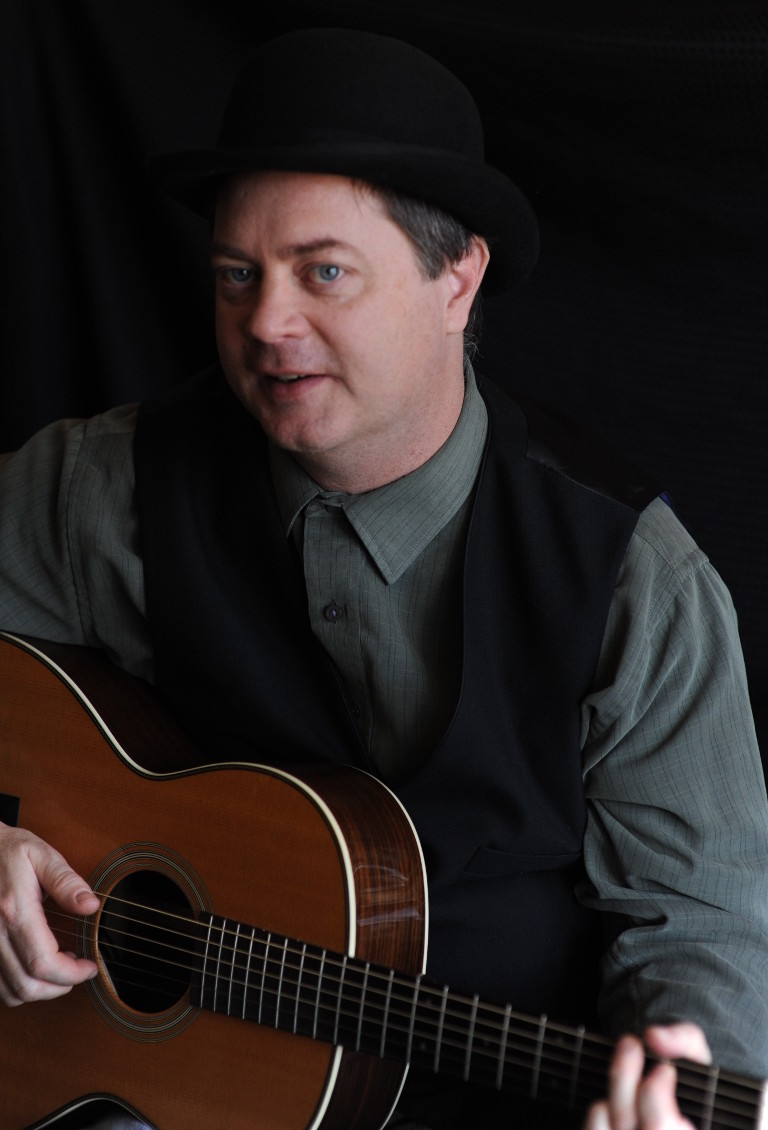 Depression, The Standing O Project, WFMT's Midnight Special, Strings and Beyond, and other respected outlets for folk music. In 2011 He was listed as Cleveland's Best Singer-Songwriter in a Scene Magazine readers poll.
Suffering an incomplete spinal cord injury in 2010, Charlie now spends much of his time using a wheelchair and cane for mobility. A two-time Ironman triathlete and 12-time marathon finisher, he drew on his experience in endurance sports to continue moving forward as a performer, touring annually and independently by train, bus, or air. Locally Charlie performs monthly for patients at Cleveland's Metrohealth Spinal cord injury rehabilitation unit every month. He also serves the City Council of Cleveland Heights on a Transportation Advisory Board advocating for people with disabilities.
As an advocate for folk music, Charlie serves Northeast Ohio's Folk and traditional music and dance society, Folknet as secretary 2014 and President 2015-current and FARM (Folk Alliance Region Midwest) as Workshop coordinator 2014 -current and Vice president 2017-current. His service as an open mic host began in 1989 at the Coventry Arabica and continues today at the Phoenix Coffeeshop on the same street 30 years later, supporting his goal of providing every voice an opportunity to singout and be heard.
Download Hi Res photo
Woody Guthrie Folk Festival
Two Way Street Coffeehouse- Downers Grove, IL
Cain Park- Cleveland Heights, OH
Music Box Supper Club- Cleveland, OH
Hessler Street Fair- Cleveland, Ohio

Uncommon Ground- Chicago Il

The Ark- Ann Arbor, MI
Kent State May 4th Commemoration

On The Tracks Songwriter Showcase- Chelsea MI

Last Minute Folk Concert Series- Topeka, KS
G.A.R. Hall- Peninsula, OH
Milwaukee Public Library- Milwaukee, OR
Crazy Wisdom Books and Tea Room- Ann Arbor, MI
Leo's Coffeehouse- Cinncinati, OH
Emporia Public Library- Emporia, KS
Awendaw Green- Charleston, SC
Cuyahoga River Concerts- Kent, OH
John Hartford Memorial Folk Festival- Bean Blossom, IN
Nighttown- Cleveland Heights, Ohio
Rock and Roll Hall of Fame and Museum- Cleveland, OH
Performed with: CSN, Jewel, Iris Dement, David Bromberg, Suzzy and Lucy Wainwright Roche, Richard Shindell, Chris Whitley, Jefferson Starship, Danny Schmidt, Dan Weber, The Samples, Dan Bern, Big Head Todd and the Monsters, Darrell Scott, Jason White, Magpie, Neil Jacobs, and many others.

Woody Guthrie Folk Festival songwriting contest 2nd place
FARMette Official Showcase Artist 2015
FARM FolkDJ Showcase artist

Folkradio.org Top 70 (55) Most played Folk Album February 2015

Standing O Project: Featured Artist of the Week Oct 15-21 2018

Folkalley.com: Feature Artist of the month November 2013

WFMT's The Midnight Special: CD of the Week May 25 2013

No Depression: Featured Song (Up Among the Stars)


Cleveland Scene Magazine readers poll winner "Best singer/songwriter" 2011

Rock and Roll Hall of Fame and Museum: Chosen by Robert Santelli to perform at the during the American Masters series, Hard Travelin' The Life and Legacy of Woody Guthrie.

Film Credits:

Feed My Soul- Growthbusters,
Walk Tonight- The Discussion